Proud to be voted one of Lansing's top authors!
John K. Addis is honored to have been voted a Top Three Local Author in City Pulse's 2023 Top of the Town Awards! Your support means a lot.
Author of Michigan-Based Tales of Horror and Suspense
John is the author of the best-selling horror novel "The Eaton", the suspenseful children's story "Journey to Cassiopeia", the controversial daily State News comic strip "Studentangle", the cult classic public access TV miniseries "The Bells of Beaumont Tower", the "Bob and the Birds" series, "Slaying the Ad Dragon", and more. Check out some of John's featured work below: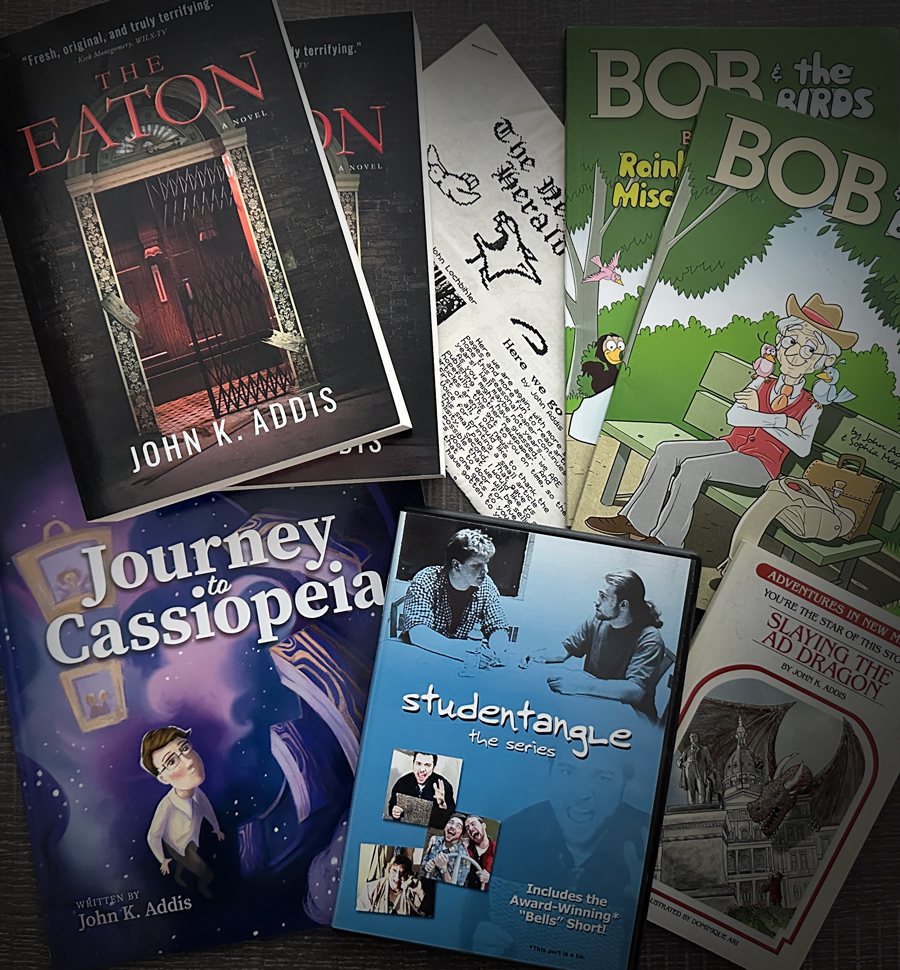 The published works of John K. Addis have sold over 10,000 copies and have received over 1,000 4-star and 5-star reviews across Amazon, Audible, and Goodreads. 
"The Eaton is an astonishing debut. A tense and suspenseful thriller set in Mid-Michigan, filled with historical information, I could not put this down! Fresh, original, and truly terrifying."
Kirk Montgomery
ABC-TV
"The Eaton will hold you captive from its first paragraph to its shocking conclusion. This spell-binding thriller kept me guessing all the way through, and left me anxiously hoping for a sequel."
Jenn Carpenter
Violent Ends Podcast
"Addis pens plenty of suspense, gore, disturbing imagery, and edge-of-your-seat tension throughout the entire text. Plus, Addis manages to create independent, smart female characters, not something you see every day in a horror novel."
Julia Gaskill
Portland Book Review
"Journey to Cassiopeia is not only a remarkable tale, but also shines a light on our own mortality and that nothing can be taken for granted in this world, especially the safety of the ones we love."
Rosie Malezer
Readers' Favorite
"Some of the images are so vivid that I had to put it down for a few minutes, let myself relax, take a few breaths, then I could continue. You have to keep reading to see what happens next, even if you are afraid to find out."
Bill Mackela
Midwest Book Review
The Bells of Beaumont Tower covers all bases of film from horror to drama to tell one hell of a story. I really cant begin to express how cool I felt that this film was.
Tracy Crockett
Unspeakable Magazine
Devoted to Telling Michigan Stories
John K. Addis is an award-winning designer and marketing professional in Lansing, Michigan. When not advertising the products and causes of his clients, Addis enjoys writing suspenseful tales set in Michigan locations.
"Michigan, particularly mid-Michigan, always seems underrepresented in literature. We have such a rich history here, with such diversity in our people and culture, so why not invent some great new stories with Michigan characters?"